Social Events
While the social events listed are regular fixtures, this list is not comprehensive and the Club often organises other social events. Just keep an eye on the events in the Club calendar!

Social Run / Weekend Away
Social runs and weekends away are planned regularly during the year.
Social runs are usually same-day and are a relaxed and leisurely drive, often in convoy, to a social or special interest destination before returning home.
A weekend away is usually to a venue away from Auckland for either a one or two night stay. Interesting and varied local attractions are visited, food and refreshments are enjoyed together with excellent conversation and stimulating company.
A social run or weekend away is an excellent way to enjoy a day or a weekend in your MG, and getting to know your fellow Club members and like-minded MG enthusiasts!
---

Clubnight
MG Car Club Auckland has a member's Clubnight on the last Wednesday of each month (excluding December) at the Remuera Club, 27-33 Ohinerau Street, Remuera. It is a very friendly occasion and is an excellent opportunity to meet fellow members, enjoy good conversation and learn more about your MG and the Club's events!
Meet in the Remuera Club lounge from 6:30pm with dinner at 7:15pm, or join us at 8:30pm when there is often a guest speaker. Please note that for catering purposes, dinner bookings are to be made to via the Club website in advance.

---

Winter Woollies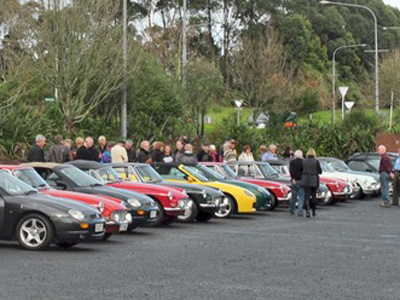 The Winter Woollies run is a long-standing tradition dating back to the by-gone era when car registration used to expire at the end of June each year. Car registration requirements may have changed, but the traditional MG Winter Woollies mid-winter run continues!
The event is very similar to a social run, and while those with open cars are encouraged to have the top down, it is not compulsory – but for those that do, plenty of warm winter clothing, including gloves, is suggested.
The Run concludes at a social venue for lunch and a chance to catch up with MG friends and make new ones.
This is one of the Club's premier annual events and most certainly is one not to be missed!

---

The National MG Rally
The National MG Rally occurs once every two years and is a wonderful few days of MG friendship and competition for MG enthusiasts from throughout New Zealand. Organised and hosted on rotation by the various MG Club Centres, the Rally alternates between various North and South Island venues.
It is a few days of fun MG activities that include:
Welcome dinner
Concours (d'elegance or d'etat)
Trial - i.e. a scenic run with time to enjoy the visual delights of the surrounding area
Speed event - e.g. a hillclimb, autocross, track day etc
Motorkhana
A fabulous Prizegiving Dinner, often with a band and dancing!
The National MG Rally is usually centred at one major accommodation venue where we can relax, chat, enjoy group meals, and discussion of the day's events.
It really is a bit of MaGic, so note in your diary when the next National Rally is scheduled.
---

Easter Inter-Centre Weekend
The annual Easter Weekend inter-Centre (Wellington & Auckland) event has a proud history going back more than 30 years! MG enthusiasts from throughout the North Island converge on one venue, usually Taupo, Napier or New Plymouth for a long weekend of fun-filled MG activities and socialising.
Events range from the competitive to purely social and finish with a prize-giving dinner on the Sunday night.
An excellent and relaxed way to meet like-minded MG enthusiasts from across the North Island.
---
Far North Weekend
This is a legendary event in the Club's history!
As spring blossoms begin to show in late November / early December, it not only signifies the beginning of summer, but also the annual MG migration for the Far North Weekend.
The event has morphed over the years and today there are several options, over 2 - 4 days, whatever meets your availability. The route is plotted to traverse the many lesser-travelled roads of the north, allowing you to choose between trialing or touring options, and your preference for sealed or gravel surfaces.
All in all, it is a great way to enjoy your MG, the company of fellow Club members and the amazing scenery of the Far North, combined with adventures along the way.
See what Far North is all about - view this short video from a past Far North weekend! (courtesy of Amy Bowyer)